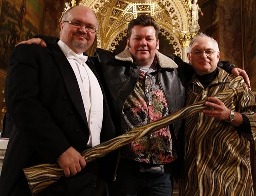 Jamin Hoffman, Sean O'Boyle, Hal Kacanek
On December 19th, 2009, Hal Kacanek performed as didgeridoo soloist for the United States premiere of Austrailian composer Sean O'Boyle's Concerto for Didgeridoo and Orchestra. The winter concert entitled "South" took place at the Basilica of St. Josaphat in Milwaukee, Wisconsin.
The Concerto for Didgeridoo and Orchestra was first performed and recorded in Australia in 2003 by the well known Australian Aboriginal didgeridoo artist, William Barton.
The concerto takes 19 minutes. It is divided into 4 parts; earth, wind, water, fire. It is dramatic, often percussive, somewhat neo-romantic in a John Williams referential style, and in a sense preserves the image that among Australian aboriginals, music functions within the realm of story-telling.
More information; see Tom Strini's article Third Coast Digest